Southern California Home Inspection Services
A Proper Home Inspection Could Be The Biggest Money Saver When Buying Your New Home
Inspect Pro Is The Trusted Home Inspection Expert
20 Years of Expert Home Inspections
Inspections Performed for NBC & Spike TV
100% Satisfaction Guarantee
Jim takes the time to be thorough, detail oriented, and explain things to my buyers in a way they can comfortably understand. My buyers very often thank me for the referral to Jim as their general inspector because they're afraid they'll get an inspector who'll either minimize problems or blow them out of proportion. By now Jim has done at least 250-300 inspections for my clients with a 100% satisfaction rate. I can definitely give him my wholehearted recommendation
As a Realtor I have worked with many inspection companies in the past, but ever since I started using INSPECTPRO I have not gone back to using any other company! Jim Starcher, owner of the company has always done a fantastic job when it comes to doing my inspections. He provides me with a very thorough report and emails the report to me within 24 hours of the inspection. I would highly recommend INSPECTPRO for all your home inspection services!
The Inspect Pro Quality Difference
When making what most likely will be the biggest purchase of your life, It's crucial to make sure your home is inspected properly.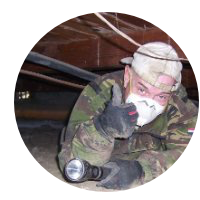 Inspect Pro performing an "under the home crawl"
Just one example of inspections that Inspect Pro does that typical inspection companies might not.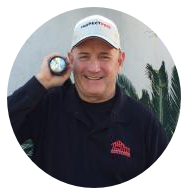 Jim Starcher
Inspect Pro Founder
Jim Starcher has been inspecting homes and commercial properties in Southern California since 1996.
With over 10 years prior experience as a General Contractor renovating properties, thoroughness is the name of the game.
Jim's average onsite inspection time runs 2-3 hours or more.
If you're looking for a Home Inspector whose number one priority is you, you've just found the right guy!
Jim was also contracted and performed all the inspections for the hit television shows "To Catch A Contractor," starring Adam Corolla
on Spike TV, and also "American Dream Builders" on NBC.


Mistakes To Avoid When Choosing A Home Inspector
Picking A Very Low Cost Inspector
Very low cost home inspectors will typically do the very bare minimum which may not include attic and crawling under the home which are very important when determining the current health condition of a home.
Not Researching The Inspector
Many home inspection companies will tell what service you can expect, but will not tell you anything about the actual inspector coming to the home. This leaves you unsure if the inspector is actually experienced and qualified to do the job.
Not Understanding Your Report
Even if you have researched the home inspector and know they did a in-depth inspection, if you don't understand the report they provide you…you're still just blindly hoping for the best without any assurance your making a good decision.
How An Inspect Pro Home Inspection Works
On the Date of Your Inspection
Your in-depth home inspection will take up to 3 to 4 hours.
Your Inspection Report
You will receive a detailed report including photos and descriptions concerning the health condition of the home.
View Sample Report
Areas That Inspect Pro Serves
We have been providing Southern California Home Inspection services for 20+ years including…
Orange County
Riverside County
Los Angeles
San Bernardino
When I met Jim about 10 years ago I knew he was knowledgeable from the get go. He is always professional, personable and kind. He takes his job very seriously and spends more time than most investigating the property. He is thorough and is current on all the laws, i.e carbon monoxide detectors. If there ever is question and on a specific item i.e. air conditioning, he has a reference ready and available. I have had him inspect my personal investments and would unequivocally recommend him every time. He cares more about the person and the thoroughness of the job than about the extra time and energy it takes.
Jim Starcher of InspectPro is the first inspector I recommend to my clients. His integrity, knowledge and professionalism are unparalleled! Jim demonstrates his knowledge and attention to detail, by giving clients and agents a thorough slide show presentation along with his verbal summary of findings, upon completion of his inspection. Jim also provides a Comprehensive written report stating all the findings and recommendations in a easy to read electronic report. Additionally, Jim will promptly answer any subsequent phone calls or emails if clarification or any info is needed by any party to the transaction.
Satisfaction Guarantee
Inspect Pro guarantees 100% quality and customer satisfaction.
Inspect Pro – All Rights Reserved